What is MS4?
MS4 stands for Municipal Separate Storm Sewer System. MS4s are conveyances or systems of conveyances including roads with drainage systems, municipal street, catch basins, curbs, gutters, ditches, man-made channels, or storm drains that are owned or operated by a public entity, are designed or used for collecting or conveying stormwater, and are not a combined sewer or part of a publicly-owned treatment wastewater treatment plant.
A Municipality is bound by the US Environmental Protection Agency (EPA) regulations associated with the Federal Clean Water Act for MS4s when all or a portion of a municipality lies within an urbanized area (UA), as determined by the US Census Bureau. Approximately 75% of Dunmore Borough is considered urbanized area.
In Pennsylvania, the MS4 program is managed by the Pennsylvania Department of Environmental Protection (PADEP). The PADEP has provided a streamlined process for Municipalities to meet State and Federal stormwater requirements. Operators of an MS4, such as Dunmore Borough, must obtain a National Pollutant Discharge Elimination System (NPDES) permit and develop and implement a stormwater management plan (aka MS4 Program). Mandatory elements of the stormwater management plan include 6 minimum control measures (MCM); each MCM has a number of associated Best Management Practices (BMPs). These 6 MCMs include:
• Public Outreach and Education
• Public involvement and participation
• Illicit discharge detection and elimination
• Construction site runoff control
• Post-construction stormwater management in new development and redevelopment
• Pollution prevention and good housekeeping for municipal operations and maintenance
What is Stormwater?
Storm water is water from precipitation that flows across the ground and pavement when it rains or when snow and ice melt. The water seeps into the ground or drains into storm sewer systems – a system with inlets and pipes that directly connect to local waterways. Storm water becomes a problem when it picks up pollutants such as oil, grease, metals and coolants from vehicles.
Who is an MS4?
Under the 1987 Clean Water Act Amendments, the U.S. EPA developed storm water regulations to address stormwater that might impact water quality. These regulations were set up depending upon the US Census population data. The stormwater regulation phase affects about 1,000 municipalities in Pennsylvania. Those municipalities that are located within and "urbanized area" as defined by the 2010 Census were required to apply for a National Pollutant Discharge Eliminations System (NPDES) permit to discharge stormwater from their municipal separate storm sewer system (MS4).
The map below is the urbanized area and the municipalities and non-municipalities that are required to have an MS4 permit.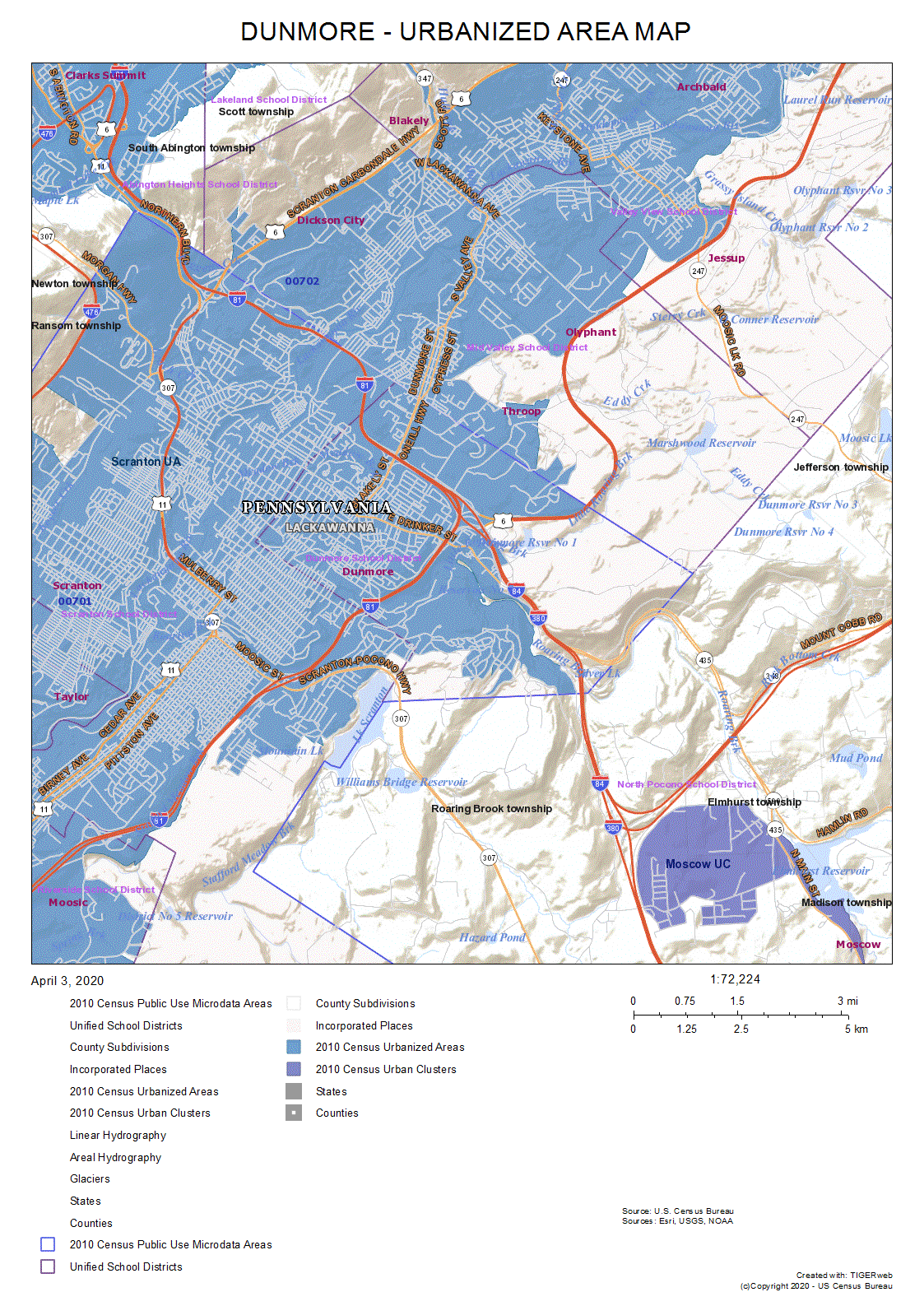 How does this affect an individual/resident?
Responsible storm water management helps protect our local waterways from unnecessary pollutants from entering to the Roaring Brook and Meadow Creek, which discharge to the Lackawanna River and through to our neighboring communities. It is important that everyone is aware of the pollutants that are harmful to our water quality.
What is illicit discharge?
Any direct or indirect non-storm water discharge to the storm drain system including any drain or conveyance, whether on the surface or subsurface, which allows an illegal discharge to enter the storm drain system including but not limited to any conveyances which allow any non-storm water discharge including sewage, process wastewater, and wash water to enter the storm drain system and any connections to the storm drain system from indoor drains and sinks, regardless of whether said drain or connection had been previously allowed, permitted, or approved by an authorized enforcement agency or,
Any drain or conveyance connected from a commercial or industrial land use to the storm drain system which has not been documented in plans, maps, or equivalent records and approved by an authorized enforcement agency.
See brochures below:
When it Rains it Drains (PDF)
Car Washing (PDF)
Illicit Discharge (PDF)
Lawn Fertilizer (PDF)
Oil Slick (PDF)
Pet Waste (PDF)
Storm Water Tips (PDF)
An illicit discharge can be accidental or intentional. If you see an illicit discharge, please report the incident to Dunmore Borough. For emergencies only: call North East Regional PADEP 24 Hour Hotline at (570) 826-2511 or Lackawanna County 911 at 911.
Click HERE to Report and Illicit Discharge
Illicit Discharge Complaint Form (PDF)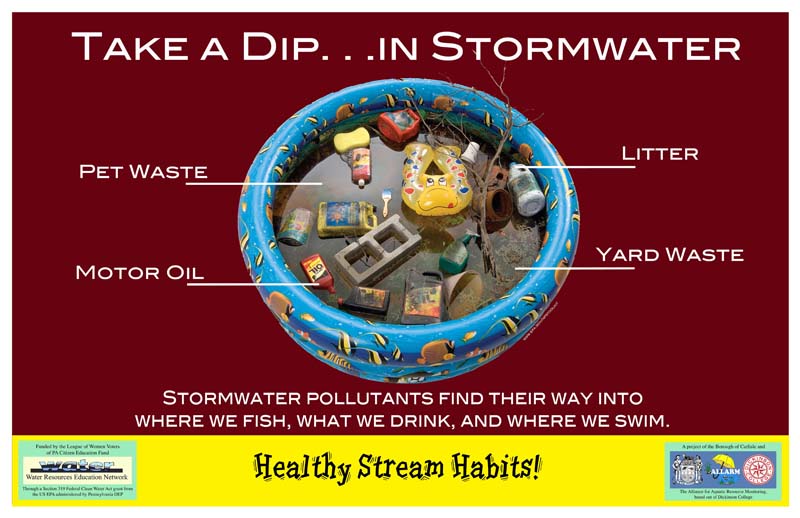 Residents/Homeowners
Rain barrels, rain gardens, and other best management practices can help infiltrate the storm water and reduce the runoff from your property.
Homeowners Guide to Stormwater Management (PDF)
Schools
EPA stormwater page for Kids
Stormwater Placemat (PDF)
Splish and Splash (A Tale of Two Raindrops) (PDF)
K-3 Water Cycle (PDF)
4-8 Water Purification (PDF)
4-8 Non-Point Source Pollution (PDF)
4-8 Roles of Plants in Water Infiltration (PDF)
4-8 Fun Facts Matching Game
Keeping Your Streams and Lakes Healthy (PDF)
Only Rain Down the Drain
Developers
PA BMP Manual
EPA Design and Guidance Manuals for LIDs
Developers Fact Sheet (PDF)
Only Rain Down the Drain
Municipal Employees
Field Screening Program Data Collection Form (PDF)
Illicit Discharge Inspection Summary Report Form (PDF)
PA BMP Manual
Businesses
Additional Resources
DEP MS4 Website
EPA MS4 Website
Stormwater PA Website
Penn State Extension Program on Stormwater
MS4 Pollution Reduction Plan